10. FEBO. Netherlands. French fries,beverages, and hamburgers.
If you ever been in the Netherlands you probably heve seen those beauty machines. FEBO is a chain of Dutch walk-up fast food restaurants of the automatiek type. Founded in 1941 in Amsterdam, FEBO is most notable for this automatic format: a counter is available for purchasing a hot nice meal. According to the company website, FEBO has almost 60 shops all over the Netherlands, with 54 being franchises.There are 22 shops in Amsterdam alone , and the taste,oh my God the taste....

9. Draft beer vending machine. Tokyo, Japan.
The taste is not bad, a little bit expensive ($12 per pint) but we like the idea


8. Baguette Vending Machine. Paris. France
The baguette.one of France most iconic symbols is now available  24-hour in this automated baguette dispenser.
for most of the french people it could be an insult,because bread is not a joking matter in France,but if you ask Jean-Louis Hecht (the inventor) je will tell you that "This is the bakery of tomorrow". It's like with banks: before, everyone went to a teller,It will be the same with bread: today, everyone goes to the bakery; tomorrow, they'll go to the baguette dispenser," he said.
The baguettes are partially cooked before they are put in the machine, then finished off when ordered and delivered crisp and steaming for €1 each..

7. Sprinkles cupcake ATM. United States.
The World's First Cupcake ATM dispenses freshly baked cupcakes and cookies 24/7!.
It's pretty much exactly what it sounds like. Imagine walking up to your neighborhood bank, but instead of boring blue or red, the exterior of that bank is pink. And then imagine that instead of money, that bank is filled with cupcakes.Swipe your card for a total price of $4.25 per cupcake. Wait about 10 seconds and walk away with your cupcake. so simple...

6. Lego Vending Machine. Munich , Germany
A vending machine that dispenses LEGO. what more need to be said? unfortunately it can only be found in Germany

5.'Let's Pizza' vending machine. all over Europe.
Imagine having fresh pizza, cooked to perfection, with a choice of three toppings – in less than three minutes! It may sound too good to be true but, thanks to Let's Pizza , it's now a reality. 365 days a year!

4. "Gold to go" vending machine. Abu Dhabi ,United States and Europe.
Gold to Go is a product brand made by the TG Gold-Super-Markt corporation designed to dispense items made of pure gold from automated banking vending machines.
Those ATM are meant to make ordinary people comfortable with the idea of investing in gold. Gold ATMS are available in Germany, Italy, Portugal, Switzerland, United Kingdom, USA and United Arab Emirates.

3. Nike vending machine. New York City. United States
This cool machine may look like a regular one,butt here is a twist: you can actually get free NIKE gear in exchange for your daily, not total, FuelBandpoints.
Thats right! but you must remember, Free stuff is free stuff, so don't expect to walk away with a pair of classic Jordans or anything....(The machine is mostly filled with things like socks, shirts, and hats)

2. Jean vending machine. Florence, Italy
Have you ever been on a train station an thought to yourself "i really need a pair of new pair of jeans? well,now its possible.
A company from Hamburg has launched a denim vending prototype machine in Florence, Italy - and its seems to have a huge success.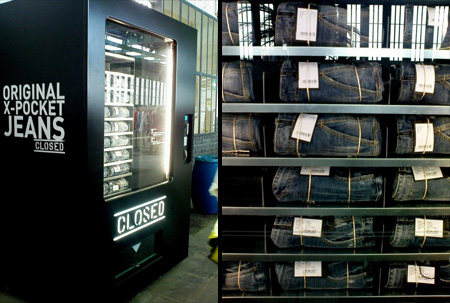 1. Marijuana vending machine. United States and Canada .
first of all,the "dream machine" is far away of what we expected.First you need to enter a medical marijuana dispensary and show a medical marijuana ID.there's never an unattended machine. There's always an employee around to check ID before you purchase. well, as Neil Armstrong once's said "That's one small step for man, one giant leap for mankind,"...